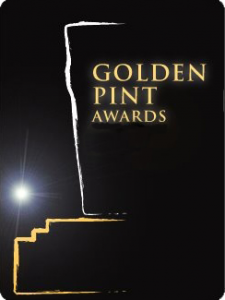 The year is nearly over which means it is Golden Pints time. A year in which I discovered more great pubs selling great beer. I am delighted to see that micropubs are popping up all over the place and more breweries with a hop fixation are starting up so the future is bright.
As always, each winner is accompanied by a little explanation as well as some close seconds listed where applicable.
If you want to check out the Golden Pint Awards made by others then click
here
.
Best UK Cask Beer
Yakima IPA -
Great Heck
(7.4% ABV)
This is always the most difficult category for me and yet again this proved to be the case. This winning beer popped up at my local one lunchtime in January and it disappeared quickly. It came on again twice in April and it was just as gorgeous on both occasions.
There were some very close seconds within this category as usual and these were, in no particular order, Pogo (Salopian), Dobber (Marble), Black Thirty Three (Brighton Bier) and Black Oktober (Vibrant Forest).


Best UK Keg Beer
Old Ford Export Stout -
Redchurch
(7.5% ABV)
A few more keg beers were consumed by me this year and this one stood out. Last year their bottled Hoxton Stout won my bottled beer category so they obviously know how to do a good stout. Rich, smooth and blooming strong. A cracking stout.
Best UK Bottled Beer
VIPA -
Tatton
(6.3% ABV)
Plenty of choice in this category as usual. This particular beer was quite unusual. Rich and robust with quite a distinctive flavour with toffee apple notes. This beer was their 5th anniversary brew brewed with both UK and European malts, Cheshire honey and UK Bramling Cross and Cascade hops. Another great IPA brewed with UK hops.
Best UK Canned Beer
Next year I am expecting to have many more canned beers. This beer was one I had hoped to find and it actually exceeded my expectations. A simply WOW beer with a sensational aroma and a taste to match.


Best Overseas Draught Beer
Robust Porter -
Smuttynose
(6.6% ABV)
This year a family trip to New Hampshire and Vermont threw up a great selection of beers worthy of winning this category. It was a fantastic hopfest over there but a pint of this beautifully smooth smoky porter wins it for me.
Best Overseas Bottled Beer
Battle Axe IPA -
Kelsen Brewing
(7.2% ABV)
The highlight of my holiday in terms of bottled beers. This strong IPA had lovely orange citrus notes and a full hop aroma. Fabulous.
Best Overseas Canned Beer
Heady Topper -
Alchemist
(8.0% ABV)
I thought I would search in vain for this beer but amazingly I found it. A tremendous double IPA that lives up to the hype and is so easy to drink.
Best Collaboration Brew
Kofra Stout -
Redwell
(5.9% ABV)
Can't think of too many successful collaborations beerwise so how about this collaboration between Redwell and a local coffee shop. My wife thought this beer was simply stunning and I thought it was pretty decent too.
Best Overall Beer
Yakima by Great Heck
Hard to choose between all of the above because they are so very different. However, the cask choice wins it for me because cask is best!!
Best Branding
Beavertown
They win simply for the artwork on their cans.
Best Pumpclip
Downlands
Always a joy to see a Downlands beer with the distinctive signpost. I liked it so much I bought the t-shirt.
Best Label
Durham Brewery
Not so much for the design as such, although they are great, but because I know that what is inside the bottle is going to be an absolute joy. I haven't consumed nearly enough of their bottled beers this year but I do have a special one lined up for my '12 Beers of Xmas'.
Best UK Brewery
I'm going fairly local for this award. Vibrant Forest began brewing back in 2011 and are based in Lymington, Hampshire, on the edge of the New Forest. This year they won the beer of the festival at my local Yapton Beerex and their beers are now becoming much easier to find all across West Sussex. My favourite beer from them was an amazing pint of their Imperial Russian stout, Black Oktober (9.0% ABV).



Best Overseas Brewery
Rock Art
A visit to their superb brewery tap in Morrisville, Vermont gave me the opportunity to sample a couple of their magnificently hoppy beers. Every beer I tried from them was first class and they were so close to winning the Best US Draught and Best US Bottled Beer categories with their Citra IPA and Belvidere Big IPA respectively.
Best New Brewery Opening 2015

Back in July I had a couple of pints from this brewery at Cask Pub & Kitchen. Pride & Joy (5.3% ABV) was a beautifully hoppy American Pale Ale and Divide & Conqueror was a magnificent black IPA (6.5% ABV). I'm hoping for more from this brewery in 2016 - and they do cans too!!


Pub/Bar of the Year
Joint winners here. My favourite micropub, the Brooksteed Alehouse, won my best New Pub/Bar Opening last year and this year it progresses to take the main award. My weekly visit is something I always enjoy. I just wished I lived closer to it. The Hole In The Wall, tucked away in the back streets of Southsea, knocked me out on my first visit earlier this year and a second visit followed shortly after. Oh if only every pub was like this one. Friendly, compact, wholesome food and an ever changing selection of cask ales. There is a pretty good keg selection too.



Best New Pub/Bar Opening 2015
The Watchmakers Arms, Hove
The latest micropub to open up in West Sussex and it is another superb place to drink. Conveniently, just a short walk from Hove train station.
Beer Festival of the Year

Great British Beer Festival 2015

My winner last year was the Sussex CAMRA Branches Beer & Cider Festival 2014. This year they changed venue and it was very disappointing. Nowhere near as enjoyable. I did get to work at my first beer festival in 2015, my local Yapton Beerex which was great as always, but the GBBF was hugely enjoyable once again.


Supermarket of the Year
Marks & Spencer
Difficult choice because I like a few of them for different reasons but M&S win it because you can now buy branded bottles too along with their own-brand ones including a couple from the excellent Siren Craft.
Independent Retailer of the Year
Cotteridge Wines, Birmingham
Winner for the third year running and after a visit in April they just keep getting better as you can read about
here
. There isn't a retailer locally that comes close to them although I am glad to have
Bison Beer
in Brighton and
Bitter Virtue
in Southampton which are both well worth a visit when I am in their area.
Online Retailer of the Year
Beers of Europe
Once again this year I have used Beer Hawk, Ales By Mail, Beer Merchants, Beers Of Europe and Yorkshire Ales. The service from all of them has been first class without exception. However, you don't always know how good a company is until you get a problem. One of my deliveries from Beers of Europe had a problem which they dealt with superbly. They do also have a fantastic range which includes bottled beer from UK breweries that you cannot find elsewhere.
Best Beer Book or Magazine
'Brew Britannia' by
Jessica Boak and Ray Bailey
I got a few beer books for Christmas last year and this one was by far the best. A great read which was so good I decided to review it. You can read that
here
.
Best Beer Blog or Website
BeersManchester
My blog has links to all of my favourite bloggers and there have been a few additions this year but BeersManchester wins again. Jim has been a bit quiet recently due to other commitments but his last two posts have come at the right time because they have reminded me why I like what he writes.
Best Beer App
Winner for a third successive year. Keeps track of everything I drink and a valuable resource for things like the Golden Pints when I need to look back at what I have consumed over the year. I like collecting badges too of course !!



Simon Johnson Award for Best Beer Twitter

@BeerOClockShow
The Twitter mouthpiece for the wonderful
Beer O'Clock Show
podcast. They represent all that is wonderful about the friendly world of beer on Twitter. It was a pleasure to meet up with Steve and Mark once again this year on the Beer O'Clock Show Brighton Pub Crawl in June.
Best Brewery Website / Social Media
Redwell Brewing
This brewery got close to winning the best UK Canned Beer award with their awesome West Coast Pale so they deserve to win this award again for sending it to me. Their website is still first class, their Facebook posts and tweets are always great and, most importantly, they are really nice people too.
That brings 2015 to a close. An excellent year although I still haven't explored London in any detail so that is something I must do next year. My main trip next year though will be to the Norwich City of Ale in May.
Happy Christmas and New Year to you all.