This weeks bottled beer selection compares beers from a brewery I was yet to experience against my favourite brewery from last year. The
Summer Wine brewery
is based in Holmfirth, West Yorkshire, a bustling mill town in the Holme Valley just a few miles north of the Peak District National Park and a few miles south of Huddersfield. Holmfirth is of course famous for the longest running BBC TV comedy series, Last of the Summer Wine. I loved this series for its mix of gentle humour along with the gorgeous scenery in and around Holmfirth. The earlier series were best when they centred around the comic ramblings and exploits of Compo (Bill Owen) , Clegg (Peter Sallis) and Blamire (Michael Bates). The trio may have spent much of their leisure time in Sid's Cafe but they also often found themselves inside or outside a lovely looking rural inn with magnificent views of the beautiful Peak District where they would enjoy a pint served in one of those big chunky jugs you never see any more. Following the untimely death of Michael Bates, Compo and Clegg were joined by Foggy Dewhurst (Brian Wilde) and the format remained pretty much the same before losing some of its original charm as it increased the number of oddball characters taking away the focus from the central trio. Fond memories indeed.
The Summer Wine brewery began brewing in 2006 with a tiny 10-gallon kit which quickly expanded to a commercial 6-barrel size in 2008. I've been meaning to try their beers for some time but it wasn't until I visited
Cobbett's Real Ales
in Dorking recently that I've been able to find any. In addition to a pale ale and an IPA I picked up a milk stout and along with these I picked up a strong IPA from the
Bristol Beer Factory
along with their milk stout. I voted the Bristol Beer Factory my brewery of the year for 2013 after awarding three of their cask ales top marks. Stiff competition indeed for the beers from Summer Wine.
Pacer Pale Ale by Summer Wine (4.1% ABV)
As an introduction to Summer Wine I started with this session strength pale ale. I'm not too keen on the label designs with the garish colours but from their website I can see the logo and colours suit pump clips much more than the bottle. Their beers are described as being 'unfiltered, unpasteurised, unadulterated, uncompromising'. Being 'unfiltered' I was expecting it to lack some clarity but this was hardly noticeable although the picture probably shows it as not being totally clear. The combination of the rich golden colour and the aroma of ripe fleshy fruits was very inviting but the first mouthful came as a bit of a surprise. It had a very pleasant fresh crisp bitterness with plenty of pine and bitter lemon notes which gave way to a delightfully dry spicy bitter finish. This ideal session bitter is full of taste, totally refreshing and bursting with zingy hops. This was a good start for the Summer Wine trio and I marked it a score of 8/10.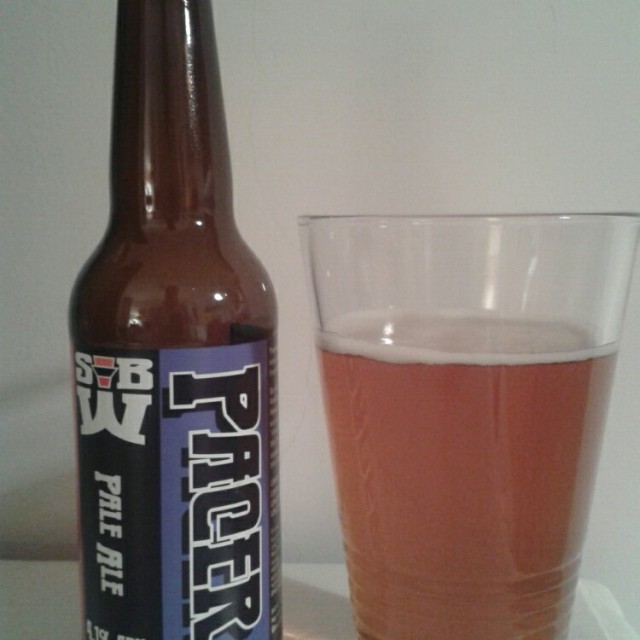 Diablo by Summer Wine (6.0% ABV)
OK that has got my intro to Summer Wine out of the way so we can now move on to the actual competition. For Summer Wine I chose this 6.0% ABV IPA. This beer is packed with American hops with the Citra hop being dominant so I was expecting quite a citrussy taste. The aroma was one of lemon and pineapple and not too strong. The taste however was full of tropical fruit flavours with mango and passion fruit in evidence along with more pineapple notes. It had a very rich and slightly syrupy mouthfeel to it which made these tropical flavours attach themselves to the taste buds with no hope of letting go. Pine and lemon came in afterwards to give a superb bittersweet finish that was lasting and quite dry. This was a lovely beer and I awarded it score of 9/10.
Southville Hop by Bristol Beer Factory (6.5% ABV)
In the Bristol Beer Factory corner we have the award winning Southville Hop (SIBA National Champion Bottled Beers 2012) coming in at an impressive 6.5% ABV. As with the Diablo this is an unfiltered and unpasteurised American-inspired IPA but this one comes with Cascade, Centennial and Simcoe hops. It looks more like the Summer Wine Pacer and it has a matching fruity aroma. The taste is very different though and matches certain characteristics of Diablo. It is quite complex however with some interesting and contrasting flavours. There are certainly some tropical fruit notes but I also detected orange and peach too along with a little earthiness. Citrussy notes came in at the finish as with the Diablo to give a fine bittersweet flourish at the end. Another fine beer and a matching score of 9/10.

All square then moving on to the milk stouts. Can these separate them?
Mokko Milk Stout by Summer Wine (6.0% ABV)
My wife is a fan of the darker beers so, whilst I enjoyed the IPAs on my own, the milk stouts were shared. This Mokko quickly came back at me though with the comment 'tastes like an ashtray'. I had to agree there was a horrible smoky tobacco taste to it which took hold and never let go despite the sweet finish trying to inject some balance into it. I am a big fan of rich robust stouts but this was not for me at all I'm sorry to say and I could only award it a 4/10.
Milk Stout by Bristol Beer Factory (4.5% ABV)
It looked like it would be game,set and match to the Bristol Beer Factory then, especially as I had tried the cask version of this Milk Stout last year, and whilst it did not set my world alight it was at least pleasantly drinkable. It certainly had a bit more life to it in the pour which resulted in a small frothy head and my wife definitely found it more agreeable. There was a less harsh smokiness to it and the sweet finish kicked in and took over. However, I still find the sweetness and the smokiness of it too much of a clash to be totally enjoyable and the finish was too sweet. Perhaps my taste buds had not fully recovered from the Summer Wine but I could only award it a score of 5/10 this time (two lower than the cask version). To be honest I was glad when this taste test was over. I won't be returning to these beers and perhaps milk stouts are just not for me.
Bristol Beer Factory came out on top in this particular taste test but I have been very impressed with the superb hoppy beers from Summer Wine. The Diablo and the Southville Hop were certainly on a par. The Pacer was highly drinkable and I would love to find this available in cask. I am always hoping to find Bristol Beer Factory on the bar and I will continue to search for Summer Wine too but when I see a milk stout from any brewery I will probably avoid.
Cheers.