Well what a fabulous day it was. All the ingredients were there for an excellent day of beer by the seaside (I think we glimpsed the sea once). The sun was shining when I eventually arrived. It may only be a short journey along the south coast for me but the 45 minute journey was extended due to train issues so I ended up having to change trains at both Littlehampton and Worthing. It was therefore noon by the time I met up with my mate Ian who had come down from London and we had a very short stroll to the first pub, The Evening Star. The original home of the Dark Star brewery is THE pub in Brighton to start any pub crawl. It was immediately evident that there was a large contingent there for this event organised by local girl Maria in conjunction with Steve and Mark, the
Beer O'Clock Show
guys. There were a few people I knew from Twitter who it was good to meet up with for the first time (Ruth, Rach and Justin particularly) as well as making new friends too. Beer always brings people together and this event was certainly doing just that.
The start point
Upon arrival Steve guided me to the bacon sandwiches that had been organised for us which were more than welcome and I ordered my first pint, a wheat beer from
New Bristol
called Strawberry Moon (4.6% ABV). I had a sampler of this beer first and it was suitably refreshing to start with although it wasn't universally loved by our group. Despite the name it wasn't infused with strawberries much to my relief and it had a distinctly muddy appearance. It didn't taste too bad though as far as I was concerned although perhaps a half would have been enough.
There was only time for a pint at the Evening Star before we moved on due to my late arrival but we were planning on finishing here too so there would be time for more later. The second pub on the list was the Brighton Beer Dispensary which meant walking past the Craft Beer Co. I have hoped to go in here quite a few times but it has never worked out and I perfectly understood the reasons for not including it today so yet again I failed to make it inside this pub.
I will go in here one day
These first pubs were the same two I took fellow blogger Jim (@BeersManchester) to a month or so ago

which he so eloquently wrote about here. Everybody loves these two pubs. Indeed, the Brighton Beer Dispensary is probably my favourite pub in Brighton at the moment and I think it was enjoyed by all on Saturday. It is a joint venture between Late Knights brewery of SE London and the local Brighton Bier Company. In fact this crawl had been organised so brilliantly as it was showcasing many of the finest breweries in Brighton and the immediate area. I have never had a bad beer from Brighton Bier Company but, being from Sussex, I left the local stuff to the others and tried new beers from further afield.
Pub No.2
By mid afternoon the pub was full of our crowd and it was a perfect opportunity for a group photo. I think Steve could have stayed here all day as he was particularly loving this pub and the local
Brighton Bier Company
beers as well as trying their light/dark challenge? The dark was quickly worked out but the light (a lovely refreshing saison) was taking a bit longer. We still don't know what it was. I was enjoying the
Weird Beard
Saison 14 (5.4% ABV) particularly which was much more amber in colour than the mystery beer with superb orange notes. A brewery I love. I also enjoyed a dark beer too, a New Porter (4.4% ABV) from north-east brewer Truefitt. The Arbor Dynamo Pale Ale (4.8% ABV) took the award for the duff beer of the day - flat, lifeless and totally uninspiring. At least I'd only ordered a half.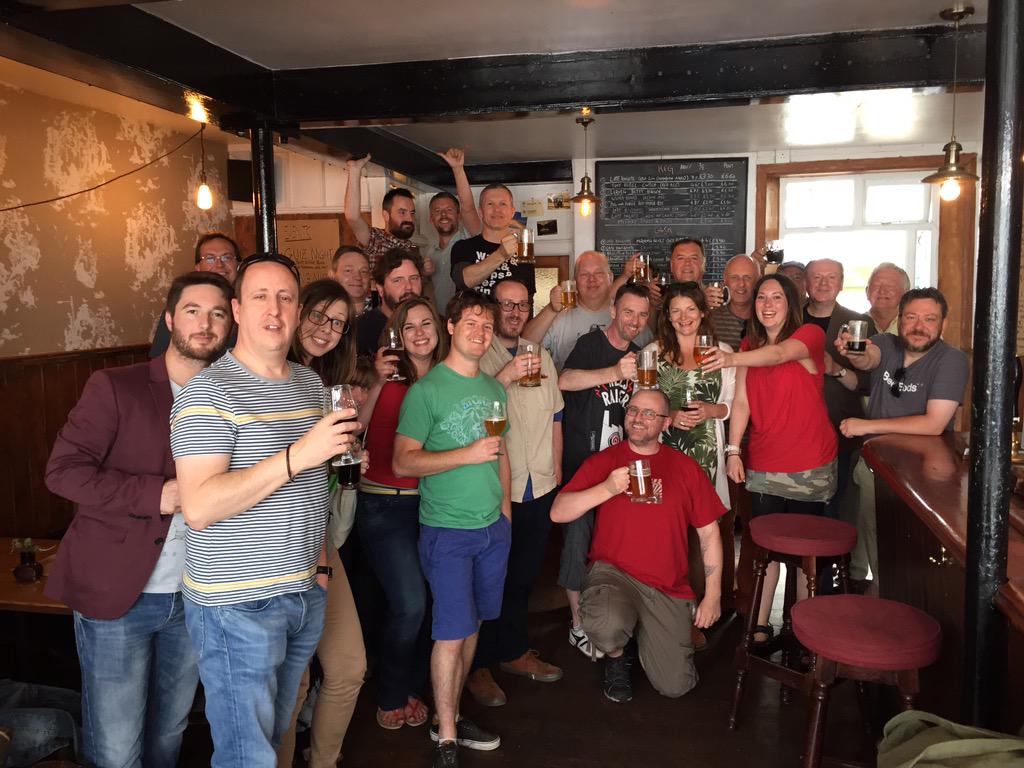 A fine bunch of beery folk
The remaining three pubs were all pubs I had never been to before so I was more than looking forward to them. Pub number three, the North Laine, is a brewpub, being the home of the Laine Brewery. Not only is the pub one I had never been to, it was also my first taste of beer from this brewery. I went for the IPA (5.4% ABV) which was ok but nothing special.
Pub no.3
The pub itself is cavernous with the brewery tanks visible behind the long bar. There were three long bench tables reserved for us here and we took full advantage. There was a good atmosphere in here with good conversation going on all around from our group. Definitely a pub I would return to and try a few more beers from their range.
Tanks lined up behind the bar in this brewpub
We had had a decent hike to the last couple of pubs but it was just a short hop to the next one. The North Laine area of Brighton has a high concentration of excellent pubs. The Great Eastern is a great street-corner boozer at the bottom of Trafalgar Street that leads uphill back to the station. They had a couple of beers from one of the best current West Sussex brewers (
Downlands
) and in fact their head brewer Widdi turned up before we moved on. I went for their Bramber (4.5% ABV), a delightful golden American amber beer, which is one of their range I had not yet sampled. Others were keen to try the sweet Honey Porter (5.0% ABV).
Pub no.4
The final pub on the journey, the Prince Albert, was a short distance away up Trafalgar Street and it was showcasing the beers from another of Sussex's finest,
Burning Sky
. Both the Aurora (5.6% ABV) and Plateau (3.5% ABV) I love but the Devil's Rest (7.0% ABV) I was yet to try so that is what I went for. Much darker in colour than the other two, quite a deep amber, it also has none of the light citrussy notes of the others but it is still a very robust and highly drinkable IPA using Simcoe and Centennial hops. I think I would choose the Aurora next time though which for me is hard to beat. The pub is situated on quite a steep slope with the outside seating on the pavement at the front looking like they could slide away. Inside, this impressive Victorian building has a number of rooms with traditional decor in keeping with the age of the building. An excellent pub.
Pub no.5
So that was it. There was time for a quick pint of
Bristol Beer Factory
Independence (4.6% ABV) back at the Evening Star where we picked up our T-shirts which were kindly provided by Dark Star who sponsored the event. I should probably feel guilty at not having consumed any of their beer today but I more than make up for it at other times. The whole day was superbly organised by Maria (thanks for the Brewdog badge - looking forward to Brighton Brewdog opening soon!!) and judging by the conversations going on I think everybody had a great time. I met plenty of new beery friends and there were others I would have liked to have chatted to more as is always the way. It was also great to catch up with those awesome Beer O'Clock Show guys, Steve and Mark (thanks for the bottle!!). I am sure this will not be the last event they organise that I will be attending.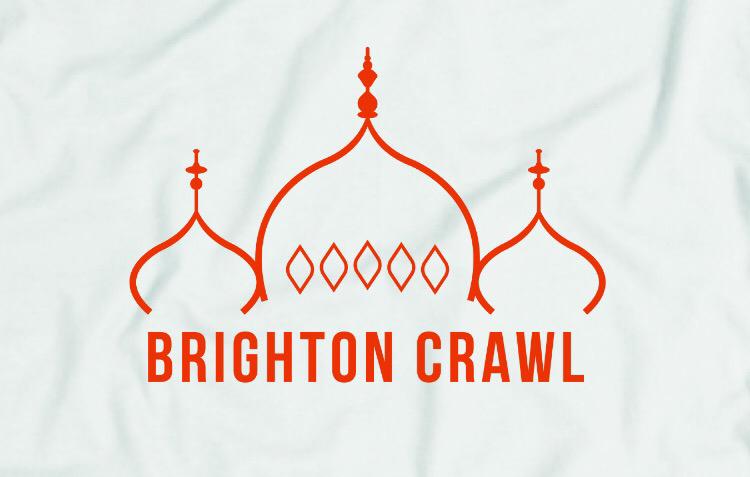 Cheers.